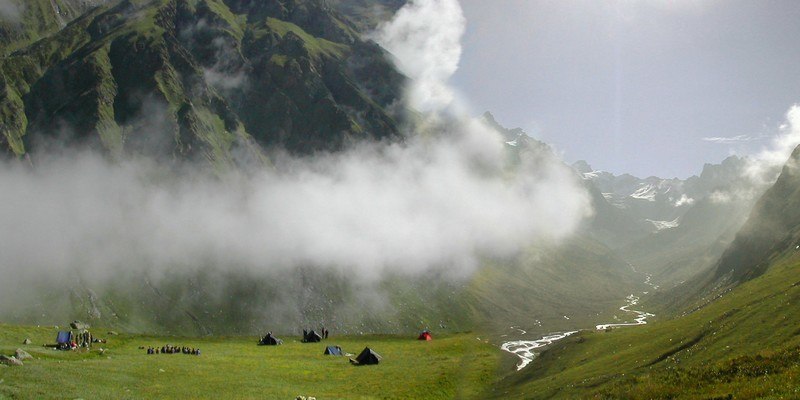 GREAT HIMALAYAN NATIONAL PARK TRAVEL INFO
Distance From Kullu Bus Station: 75 kms
Commonly Visited from : Kullu
Trip Duration (from Kullu, Including Travel) : 1-8 full days
Place Location : –
Transportation Options : Bus/cab plus Walk/Trek
Travel Tips : None
At a distance of 75 km from Kullu, 63 km from Bhuntar, 113 km from Manali and 14 km from Gushaini, The Great Himalayan National Park (GHNP) is spread across Parvati valley, Thirthan valley, Sainj valley & Jiwa Nal valley of Kullu region. In June 2014, the Park was declared as UNESCO World Heritage Site.
The Great Himalayan National Park is one of best national parks in India and also one of the best Places to visit in Himachal state. The park was established in 1984 and is spread over an area of 754 sq km at an altitude varying between 1500 to 6000 m. GHNP was formally declared a national park in 1999. The GHNP is situated adjacent Pin Valley National Park, Rupi-Bhaba Wildlife Sanctuary and the Tirthan and Sainj Wildlife Sanctuaries, making it one of the biggest areas for wildlife conservation in the whole Himalayan range.
The Park is habitat to numerous flora and more than 375 fauna species including approximately 31 species of mammals and 181 species of birds. More than 15,000 residents of 160 villages in the buffer zone are dependent on GHNP's natural resources. The fauna of the park includes some of the most exotic species of animals like snow leopard, blue sheep, Himalayan brown bear, Himalayan tahr, musk deer, goral and many others. The bird species found in GHNP include golden eagles, Himalayan griffon vultures, lammergeyers, raptors, etc.
There are no roads that lead directly to the Park boundary, access is by foot mainly through its western boundary. The park has four main entry points; Gushaini (40 km from Aut) is the road head for trekking in the Tirthan Valley, Neuli (40 km from Aut) is where trekking trails in Sainj valley start. Siund village (30 km from Aut) is the starting point for treks in the Jiwanala Valley and Barshaini is preferred starting point for the trek up to Mantalai and the Pin – Parvati Pass in Parvati valley.
Trekking is the only way to enjoy and explore the Great Himalayan National Park. The park offers hikes and treks, ranging from one day to 8 days. Adventure seekers can also participate in activities like rappelling, river crossing, Rock climbing and fishing. There are many trails within the park. Gushaini – Tinder village, Gushaini – Shilt Hut, Gushaini – Tirthan valley, Neuli – Manu temple, Neuli – Sarangarh loop, Neuli – Sainj valley, Sainj – Tirthan valley, Siund – Pashi villages, Jiwanala – Parvati River valley, and Shamshi – Kaza are some of the famous trails. A major attraction is the Pin – Parvati Pass trek. Three important pilgrimage spots within the GHNP are Raktisar, Hanskund and Srikhand Mahadev.
GHNP offers limited accommodation options. There are 14 guesthouses inside the park with basic facilities, which can be used for shelter after getting required permission from the park officials. Forest guest houses are also available at Aut, Sainj, Sairopa, Banjar and Shangarh. Visitors are advised to carry tents if they intend to stay inside the GHNP.
Entry to this protected region is by permits, which can be obtained either from the Director's Headquarter at Shamshi or from the range officers stationed at Sairopa, Banjar and Sainj. Guides are provided by the authorities and a token fee is charged as entry fee.
This Park is best visited between April-June and September-October. Not suggested visiting in monsoons (July to Aug) due to heavy rains and in peak winter (Dec to Feb) as there will be heavy snow fall.
Entry Fee: Rs. 50 per person for Indians and Rs. 200 per person for Foreigners
More details on trekking trails: http://greathimalayannationalpark.com/park-treks