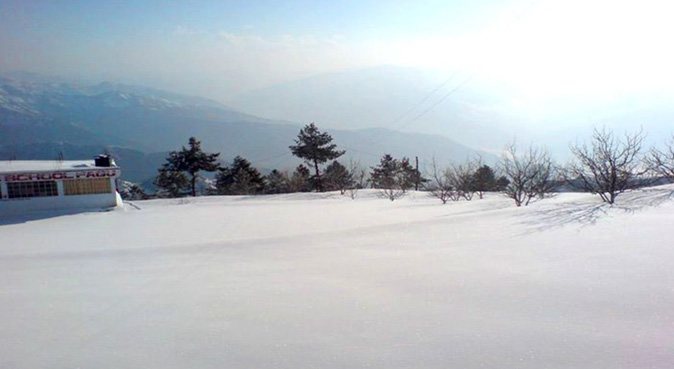 FAGU SKI RESORT TRAVEL INFO
Distance From Shimla Railway Station : 20 kms
Commonly Visited from : Kufri (6 Kms)
Trip Duration (From kufri, including travel) : 1-2 hours
Place Location : near Kufri Town
Transportation Options : Bus / Cab
Travel Tips : None
At a distance of 20 km from Shimla and 6 km from Kufri, Fagu is the ski resort situated in Himachal state. It is well known for its swaying green fields with the snow covered Himalayas at its backdrop. Fagu surprises vacationers with its splendor, charm and serenity. It is one of the secluded snowy retreats in Himachal state. It is one of the best ski resorts in Shimla and also among the top places for skiing in Himachal state.
Fagu is a famous site adventure sports in Himachal state. It is situated on the Hindustan Tibet Road at a height of about 2500 m above sea level. In Fagu, you can be surrounded with clouds all over. It is a small village with only few small typical shops selling essential, nothing else. But the place is dotted with Apple gardens, terraced fields and potato fields etc.
The town is entirely surrounded by greenery and is rich in flora and fauna. Fagu is a perfect place for nature lovers and a must visit place for those fond of scenic beauty. The place serves as a good base camp for trekkers and naturalists. The picturesque view of the hills and its beauty is really enchanting.
Banthia Devta Temple, the place of worship of the local God is one of the most famous temples in the town which can be reached by climbing about 1000 steps. This Temple in Fagu reflects the craftsmanship of the locals with its extraordinary wood carvings