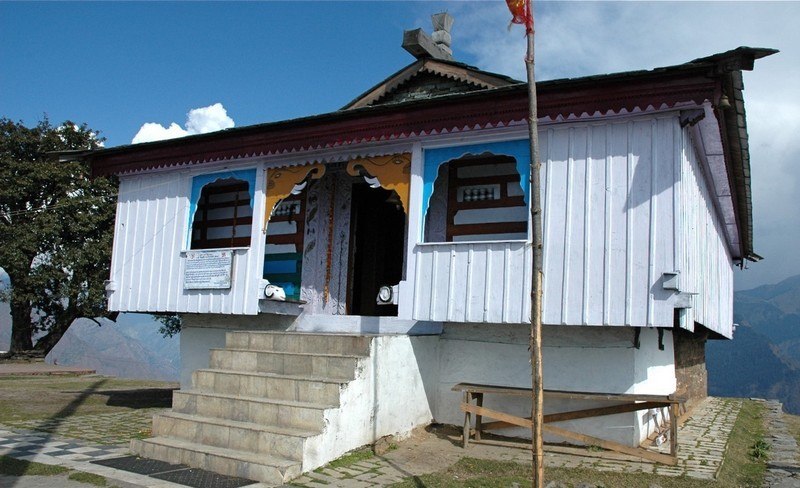 BIJLI MAHADEV TEMPLE TRAVEL INFO
Distance From Kullu Bus Station: 26 kms
Commonly Visited from : Kullu Bus Station
Trip Duration (from Kullu, Including Travel) : 4 hours/half day
Place Location : –
Transportation Options : Bus/cab plus Walk/Trek
Travel Tips : None
At a distance of 26 km from Kullu, 3 km from Chansari Bus Stand and 60 km from Manali, Bijli Mahadev temple is one of the sacred temples of Himachal Pradesh state. It is located at an altitude of about 2,460 m in Kullu Valley.
Dedicated to Lord Shiva, Bijli Mahadev temple is situated on Mathan Hill and is surrounded by Parvati, Garsa, Bhuntar and Kullu hills. Trek to Bijli Mahadev is one of the best short treks in Himachal. The temple is renowned for its 60 feet high flagpole that sparkles like silver needle in the sunlight. This high structure draws divine blessings in the form of lightening and it is said that with every flash of lightening, the Shiva Linga is shattered to pieces. The broken pieces of the Shiva Linga were bound together by the temple priest using butter and Sattoo (a paste of roasted gram and wheat powder). This activity repeats itself once every year. It is due to this legend that the temple is named as Bijli (lightening) Mahadev.
The Temple was built in Pahari style. There is an impressively carved image of Nandi at the entrance of Bijli Mahadev temple. The temple doors are also beautifully carved with sculptures. As per history, the Pahari temple architecture in Himachal Pradesh was introduced in 8th century and this shrine was built during that initial period. Some puja articles are available inside the temple without any additional cost. The surroundings of the temple are quite scenic as the temple is situated on top of the Mathan hill. The site offers a panoramic view of the Kullu and Parvati valleys below.
This temple has to be reached by 3 km trekking from Chansari village. Trekking duration is about one hour one way with 3-4 rest points. Small shops are available selling refreshments on trekking path. Chansari village can be reached from Kullu by bus or taxi.
During the new moon day of Shravana month, devotees offer prayer to their forefathers at Bijli Mahadev temple. A fair is also organized every year during this time which is quite popular with the pilgrims.
Timings: 6 AM to 8 PM