<![CDATA[In the words of the popular American author and Humorist, Mark Twain, " Varanasi (Banaras) is older than History. Older than Tradition, older even than legend and looks twice as old as all of them put together. [caption id="attachment_8328" align="alignnone" width="640"]
Image source: Wikipedia Commons[/caption]
Varanasi: A city older than History
The Eternal city of India; Call it
Varanasi
or
Banaras
or
Kashi
! By any name and by all means,
Varanasi
is one of the oldest, continuously inhabitated cities in the world. This city is more so remarkable since its great contemporaries-
Beijing
,
Jerusalem
and
Athens
have moved on and away from their ancient ways of life. On the other hand, the lanes and buildings of old Varanasi still ooze the ethos of ancient India.
More than 3000 years old, this city has been referred to by various travelers across time zones.
From
Xuanzang
of China to
Mark Twain
of America everyone has attested to this great city being extremely old and the center of religion, education, and artistic activities.
Further read:13 tempting dishes of Mumbai that are worth to try this weekend.
To this day, this city is significant from many angles. It is one of the most important pilgrim centers for
Hindus
,
Buddhists
and
Jains
. [caption id="attachment_8329" align="alignnone" width="592"]
Image Source:
Sadhu
,
Monk
and
Jains
[/caption] It is one of the seven sacred cities of Hindus. It is famous for its
muslin
and
silk fabric
,
ivory work
and
sculptures
. [caption id="attachment_8330" align="alignnone" width="592"]
Image Source:
Silk
and
Sculpture
[/caption] Infact from faith, philosophy and culture to Indian arts and crafts all have gained tremendously from this eminent city of India.
Suggested read: Let's Travel: Mid-Year Travel Destinations on a Budget
City of Ghats
Speak of Vranasi, and the first thing flashes across your mind is the image of numerous
Ghats
along the Easter bank of the River Ganges.
Further read: Trip to ladakh in a Budget
There are more than
100 Ghats
lined up here back to back. [caption id="attachment_8331" align="alignnone" width="640"]
Image Source:
Wikipedia Commons
[/caption] The religious and cultural life at Varanasi is closely associated with the
River Ganges
, so a trip to these stepped embankments is a must if you wish to feel the pulse of the city. A boat ride across this
6-1/2 kilometer
crescent-shaped stretch is the best way to glimpse life at Varanasi unraveling on the Ghats, some 52 of them facing the river. The best time to take a boat ride is
pre-dawn
, at about 04:30. [caption id="attachment_8334" align="alignnone" width="640"]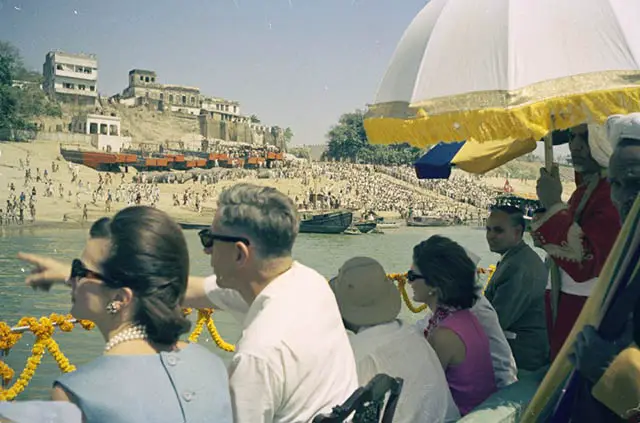 16 March 1962 First Lady Jacqueline Kennedy's (JBK) trip to India and Pakistan: Benares (Varanasi), Uttar Pradesh, India, boat ride on Ganges River. Credit "Cecil Stoughton. White House Photographs. John F. Kennedy Presidential Library and Museum, Boston"[/caption] When the first rays of the Sun fall on the Ghats there is already a
humdrum of activity
along the banks. The
sun-lit Ghats
exude radiance, glowing against the exhilarating blue sky of dawn. The multitude of devotees are already busy performing rituals and
Suryanamaskaar
. [caption id="attachment_8335" align="aligncenter" width="400"]
Image Soure
. Every year, Shree Vidya Muth organises a session of Surya Namaskar at Kedar Ghat to welcome the Hindi New Year.[/caption]
---
Many can be seen taking a dip in the ice cold waters of the holy river to absolve themselves of all
sins
. Most of the Ghats are
bathing Ghats
, with a few serving as
cremation grounds
. [caption id="attachment_8336" align="aligncenter" width="640"]
Image Source
. Manikaranika Ghat – One of the important cremation ground in Varanasi.[/caption]
Important Ghats of Varanasi
According to Hindu Mythology, the entire city of Kashi – is suppose to be a cremation place. It is the belief of Hindus, that dying at this holy city of Lord Shiva and the Ganges will free them from the cycle of dying and re-birth.
Suggested read: How to travel for Cheap in India?
And it is for this reason that many widows and elderly come to Varanasi to spend their last few days of life and die here in. As many as
5 million Hindus
frequent these Ghats every year!
At the Southern most end is the Asi Ghat. It is here that the River Ganges joins the river Asi.
Just around the corner is the campus of Banaras Hindu University.
[caption id="attachment_8339" align="alignnone" width="640"]
Banaras Hindu University[/caption]
The next ghat, which is the Tulsi Ghat, is named after the great Hindi poet of the 16th century, Tulsidas.
At the foot of Janaki Ghat, is the pumping station of the Varanasi water-works.
Bachhraj Ghat is of significant importance to the followers of Jainism.
Shivala, or Kali Ghat, gets its name from the historic "Shivala fort" here.
Harishchandra Ghat, the next Ghat, is used for cremation purposes, being the second important cremation ghat after Manikaranika.
The Kedar Ghat is a shrine for the Bengalis.
Raja Ghat, which comes next, has a large inn for Brahmins.
RanaMahal Ghat, Munshi Ghat and Prayag Ghat are the other smaller bathing ghats that follows, before one reaches the imposing Das-aswa-medh Ghat.
Das-aswa-medh Ghat is the main ghat of the city. Centrally located, the most popular among all the ghats.
There is always a humdrum of activity taking place here.The most prominent feature of this ghat is the sight of huge parasols with self-poclaimed holy men seated beneath them, making a rich living performing rituals.
Another very disheartening sight is the filfth apparent all around, polluting these historic ghats. It is indeed sad that such a beautiful site is so lacking in basic maintenance.
Further read: How to Monetize your travel blog?
Indeed, Varanasi is a melting pot where life and death come together.
Eat your way through Varanasi
Early morning tea at Chowk: There are chaiwallas who serve tea with crisp toast and fresh white butter. Ask them how they make it as creamy (most make theirs themselves).
Kachori for breakfast: Do as locals do and land up for breakfast at Ram Bhandar at Thatheri bazaar.
Varanasi's Best Bread… Is at Shivala Ghat. Bread of life bakery makes some of the best bagels, doughnuts and pasta.
And then there is the Brown Bread Bakery on Tripura Bhairavi Road, which is run by a German baker and has great organic food and cheeses at pocket-friendly rates.
There's sushi too: The cozy Megu Café in Chetganj has well-priced, authentic Asian food. Try their sushi rolls, ramen and bibimbap.
Don't miss the chaat and jalebi: Because that would be criminal. Deena Chat Bhandar on Luxa Road is the place to go—get the tamaatar chaat and dahi puri.
For the best jalebis, go to Madhur Jalpan at Kadoi Chowk.
General tips
Local auto rickshaws are not reliable, but cycle rickshaws are a great way to explore the narrow gullies.
It's best to get your own vehicle to get around in Varanasi. Call Anand Travels at 9198128100 to book a taxi.
Everybody in the city has their favourite paanwala. While you must try the famous banarasi paan—most vendors get their leaf from Kolkata—be careful to make sure they don't add in anything you're not comfortable with. Tip: if you're trying it for the first time, go for the sweet paan and ask them to skip the khada supari.
The rains (July–September) are a bad time to visit—the river overflows so much so that many temples are submerged underwater and are out of bounds.
Stay
Suryauday Haveli
(doubles from Rs8,500)
is a restored
20th-century property
right on
Shivala Ghat
and formerly served as a retreat for the aged. Practise yoga on the terrace and enjoy traditionally cooked vegetarian food after you watch the evening aarti right from the haveli. Or, stay at the
Zostel
near Luxa police station or
Stops Hostel
in Bhelupur. they offers spacious dormitories and private rooms and a chance to interact with travellers from around the world.]]>